Program Characteristics
This program aims to cultivate highly competitive students who can take lead among information technology professionals. This program provides English-taught courses so that students will equip with good communication skills in English before they enter global job market. English as a global language serves a very important role in knowledge dissemination and social communication.
Doubtlessly, information technology professionals who have a good command of English will have an edge over their competitors. They will take a decisive job position in a global team and make significant contributions.
Computer Science and Engineering discipline itself has an advantage over many other disciplines. It renders a professional the power of realizing innovative ideas and fusing with other disciplines. This is so-called Computer Science + X, where X can be mechanical engineering, electronics, art, finance, management, etc. The important point is the plus sign and the great extent of X. This can be explained by the figure and equation shown below.
Core competence of Computer Science +

X

+ English = Global Competitiveness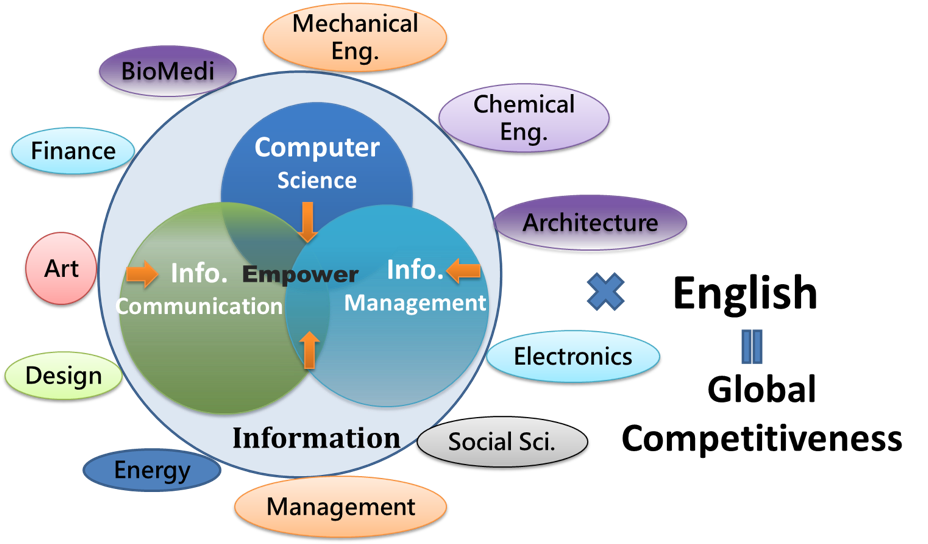 Curriculum Design
Students in this program should establish a solid core competence in computer science and engineering. This program provides more than 70 credits of English-taught courses. Among them, computer science core courses take 48 credits, selective required courses take 18 credits, and general educational courses take 10 credits. At the same time, students require taking two courses:"Oral English Communication" and "Practical English Writing", to strengthen their oral and written communication skills.
This program also sets aside 25 elective credits for students to carry out exploratory studies. Among these credits, 13 credits can be obtained from the courses offered by other colleges. This makes Computer Science + X possible.
This program also requires students to take a yearlong practical training (job internship) in the industry or conduct a yearlong special project in the university. This will help our students locate a decent job right after graduation. Students must obtain at least 12 credits from practical training. They can obtain up to 32 credits for practical training in a foreign country.
This program also implements a flexible course substitution system to encourage students going for a foreign exchange study. Our students can freely take courses interesting to them or courses not offered by our program. This will help our students to complete their studies without delay.
Overseas Activities
Studying abroad is key to widening students' global perspective and strengthening their global competitiveness. In addition to a short-term foreign visit, we encourage students to participate in a long-term exchange and a dual-degree program provided by a cooperated university. Our staff will help students apply for financial assistance provided by the university itself, government, other organizations, etc. so that studying abroad is no longer just a hard-to-realized dream.
Some cooperated universities for exchange program
.California State University, Sacramento
.Linkoping University, Sweden
.University of Western, Sydney
.EFREI, France
For other universities: https://www.yzu.edu.tw/admin/oia/index.php/en-us/international-coorperation/international-cooperation
.For cooperated universities in Mainland China:
https://www.yzu.edu.tw/admin/oia/index.php/en-us/international-coorperation/mainland-china
Some cooperated universities for dual degree program:
.Linkoping University, Sweden
.University of Western, Sydney
For other universities: https://www.yzu.edu.tw/admin/oia/index.php/en-us/international-coorperation/dual-degree
Broad Future
Students graduated from this program, if pursuing an advanced degree, will mostly enter top-ranked universities (including Yuan Ze) in Taiwan.
They will certainly have more opportunities to enter a graduate school in a good foreign university. We believe that our multi-disciplinary trained students capable of communicating in English will be able to compete, cooperate and succeed in their professions. Their professions are more likely in computer and networking system hardware and software development, database designs, big data analytics, internet of things, computer security, multimedia system, digital contents, etc.
They will more likely work for international enterprises such IBM, Microsoft, Google, Facebook, Apple, Intel, Oracle, Cisco, ARM, etc. and large domestic companies such as HTC, Acer, Asus, Delta, TSMC, Quanta, Hon Hai Precision, Compal, MediaTek, Novatek, Realtek, Global Unichip, Faraday, UMC, Trend Micro, CyberLink, Advantek, etc.